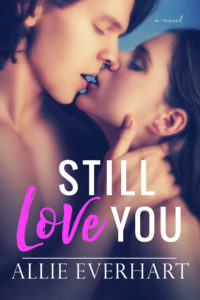 A scene from Still Love You, a standalone new adult romance.
Willow
"Are you decent?" I yell outside Silas' door.
"Depends on how you define that." He yells back.
I open the door and see him standing there in jeans, but shirtless, just like he was on the farm. His hair is wet but now it's because he just showered. He smells good. Clean and fresh with a hint of cologne.
"You gonna put on a shirt?" I ask.
"I'm still hot from being outside so I thought I'd just leave it off." He grins. "Is that a problem?"
He's evil. No girl can resist a hot shirtless man fresh from the shower. Except me. I'm stronger than most. I can resist him.
"Not a problem at all, although it seems unsanitary to eat without a shirt, hence the no-shirt, no-service rule at restaurants."
"We're not at a restaurant. And it's not unsanitary. I just showered. I'm even cleaner than you."
I huff. "That's not true! I showered this morning. I'm very clean."
"Let me see." He steps up to me, his hands grasping my waist as he bends his head down to my neck. His lips graze my skin as he inhales, making me shiver.
"What are you doing?"
He exhales his warm breath over my neck. "You smell good."
"Thanks. Now will you move, please?"
I was tempted to turn my head and kiss him but I didn't. Excellent self control. Score one for Willow.
He slowly backs away.
"I really think you should put a shirt on." It's a lie. I don't want him covering up those incredible abs, but my self-control is winning out, keeping me from doing something I shouldn't.
He gives me a smug smile, then walks over to his dresser and pulls out a white t-shirt. Damn. I'm a sucker for jeans and a white t-shirt, which he knows. He takes his time pulling the shirt over his head, the movement causing his ab muscles to flex. Holy crap, that's hot.
"Is this better?" He stands there, his arms at his sides, looking completely irresistible.
"Sure. Whatever." I turn away from him and get my phone out. "What kind of pizza do you want?"
"Sausage and pepperoni. I'm craving meat."
"No green peppers? Mushrooms?"
"Add whatever you want. Just not anchovies."
"Gross. I hate anchovies." I call the pizza place, but get a message that the number is no longer in service. "Silas, is Pizza Village closed?"
"Yeah. It closed last month." I feel him come up behind me, his arms going around me, brushing against my chest as he takes my phone and types in a number. "This place is good."
I order the pizza, then turn around and face him. "You could've just given me the number."
He smiles. "I could've."
He's taking this flirting up a notch. Time to give it right back.
I slip my hands under his shirt, along his abs, and give him a flirtatious smile. "So, what should we do while we wait?"
He chuckles. "I know what you're doing."
"I don't know what you're talking about."
"It's not going to work." He grasps me around the waist. "It'll just make me do this all the more."
"Do what?"
He leans down and kisses me. A bold, assertive kiss. A kiss that buckles my knees and leaves me breathless. Then he pulls away, waits a moment, then says, "Would you like me to take the shirt off? It seems to be in your way."
I look down and see my hands are now halfway up his shirt, my fingers splayed out over his chest. I quickly yank them away.
"Sorry. I didn't mean to do that."
"No problem." That smug grin appears again. "Maybe we should eat out back. Otherwise it'll smell like pizza in here for a week. Doesn't make for the greatest atmosphere."
"Why do you care about the atmosphere? Are you having people over?"
"Just one." He kisses my cheek, then takes my hand, tugging me out of his room and down the hall.
"You're being very strange."
"Good. I'd hate to be normal. Normal is boring."
I like this new Silas even better than old one, and that's saying a lot because I really liked the old one.
---
Want to read more? Get your copy of Still Love You!