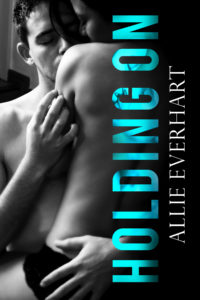 Holding On releases August 28th! Here's a sneak peek!
Becca
"Raincoat or umbrella?" Ethan asks.
"I don't get the question."
"When it rains, would you rather have a raincoat or an umbrella? Assuming you could only have one."
"Raincoat," I say, not even needing to think about it. "I like the feel of rain on my face. But being in soaking wet clothes isn't fun. And even with an umbrella, your clothes still end up getting wet. So raincoat. Definitely. Which would you pick? Raincoat or umbrella?"
"Neither. I don't mind if I get soaked in the rain, as long as I'm not wearing jeans. Wet jeans suck."
"Totally. So you're saying if you were wearing jeans, you'd pick the raincoat."
"Correct. Okay, next question. Chocolate or fruity? Which type of cereal do you prefer?"
"Hmm. Depends on my mood. In the morning I tend to like fruity but if I'm having it later in the day, I like chocolate. How about you?"
"Fruity. Any time of day." He takes a drink of his pop, then says, "Lights on or off?"
I feel my face heating up, but I smile and pretend his bold question doesn't bother me. "That's kind of personal, don't you think?"
"Why is it personal? I was talking about what you like when you're watching TV. Do you like it dark or would you rather have the lights on? What'd you think I meant?"
He's such a liar. He definitely meant sex not TV, but I play along. "Lights on, but not too many. And not too bright."
"Same here. Next question. Rough or gentle?" He says it with a straight face.
This time I don't question what he means and just answer, "A mix of both."
"That doesn't really work. Most cars are either one or the other."
"We're talking about cars?"
He nods. "Specifically, what kind of ride you like. A rough ride, like a truck." He says 'rough' in a sexy tone, his eyes on mine. "Or a smooth, gentle ride, like a luxury sedan." Again, he says it flirtatiously.
I'm suddenly feeling very warm, imagining what it would be like to have sex with him. Would it be rough? Gentle? What would his body feel like? Those hard muscles. Those large hands.
"You sticking with your answer?" he asks.
I wake from my fantasy. "Um, yeah. A mix of both."
He smiles, knowing his words got to me.
"Is it my turn?" I ask.
"Go ahead."
"Top or bottom?"
As expected, my question doesn't faze him. He's very confident. I think it takes a lot to embarrass him.
"Are we talking bunkbeds?" he asks.
Damn, he's good. A quick thinker.
"Yeah, bunkbeds," I say. "Do you like the top or bottom bunk?"
"Both. Preferably, I like to try both in the course of a night."
I swallow, my mind once again imagining the two of us together. We need to get off this naughty line of questioning before this night turns into more than just two friends hanging out. Not that I wouldn't like more than that, but I shouldn't go there. He's my boss. And he's Ethan Baxter, who admitted he's not looking for a committed relationship. Then again, neither am I so maybe a quick fling wouldn't be so bad.